Currently this course is Presented Live Online during three 9-hour sessions over three days, followed by a four to five-month integration programme
An "Agile" Culture & Leadership Masterclass (CAL2) with Michael Sahota
The SHIFT314 CAL 2 is a deep dive into the concepts of the CAL1 and we continue the journey with Playbook 2.0 for alignment, practical role-playing, organizational listening and advanced leadership skills.
CAL2 is a three-day 'Agile Culture & Leadership Masterclass' with a 4 - 5 month follow-up integration programme.
Why you want to be here
Increase your effectiveness in your personal and professional life
Evolutionary Leadership is the key to your success and want to grow
Use crucial conversation skills for resistance, implementation and change
Learn facilitation techniques to unlock Org. performance
Playbook 2.0 extensions for Gain the competitive edge to influence culture shift in organizations
Gaps in your leadership, gain skills to evolve faster
Michael's CAL2 invitation

SHIFT314 CAL 2 programme

Wisdom, Tools, Mindset Shift
This is an intense three days of deep exploration into high performance.
SHIFT314 Technologies unlock participants to undergo a process of letting go of existing behaviours that block their abilities for effective leadership.
Explore models of culture and receive a strategic/tactical playbook to guide your next steps on the journey of creating high-performance organizations.
Integration Program – Peer Review Sessions
*This work and participation in these sessions are mandatory for certification.
The Certification Journey Continues: In applied practice, participants will document the application of course learning, and receive peer feedback within their cohorts monthly. Plus attend monthly integration calls for deeper learning.
Large Group Review
A half-day online meeting to review and integrate learning at the end of the four months. Each participant will present their understanding and application of the CAL content for review and certification.
Full Duration: approx. four months. (3-day training followed by four to five months of group calls).
Here is what CAL2 graduates are saying
"This week my company launched a new network in Italy with two of the biggest online gaming companies in the world. Getting through the regulatory bodies was a grind and I knew it would be our most challenging release to date. Under extreme pressure, we got the performance of a lifetime out of the two teams assigned to launch this network. We basically just got out of the way and let the team shine. We have been getting congratulatory emails all day from members of the board, my CEO, CTO, COO, etc… Wouldn't have happened without my 5 days in CAL. Wanted to share with you how appreciative I am." – N. Shulman, Director of Agile Product Management at Global Daily Fantasy Sports Inc.
"CAL1 & CAL2 helped to shape and organise my thinking around a new way of running organisations; a more caring, compassionate and emancipatory approach which I found to be truly inspiring. It also gave me space and confidence to deeply reflect on my impact and how I show up. Since CAL I've taken the message back to my organisation and to my great excitement have found the it resonating widely. We are in the process of dissolving our hierarchy and exploring new methods of decision making, adapting our organisational structure to this brave new world." – T. Holliss, Product & Development Director at ZappiStor
"Don't think it. Do it. You can't explain the course to anyone who has not done it. Just do it."- S. Smith, Manager
"Personal rollercoaster ride: opens up your eyes, challenges and changes your current beliefs in a very effective and efficient way. Audree and Michael facilitate and steer these sessions in a very unique way!" - M. Feller, Head Agile Delivery and Transformation
"My recent virtual CAL2 experience with Michael and Audree was fantastic. It was like no other leadership training I have ever taken. The command of the content, clear delivery and unconventional technologies kept us all off balance and growing. Forget the Agile Mindset. This experience is light years beyond that!" - F. Leong, Agile Transformation Consultant
"Taking CAL2 will not only make you a better change agent, it will change your being." - R. Rogers, IT Project Manager at City of Naperville
"It was the most intense workshop I have ever been to. Mind-blowing." - G. Koehle, CEO
"I thought CAL2 would be an evolution of techniques and methods, but it is much more, a dive into myself to reveal what is really preventing success." - M. Patel, Agile Transformation Consultant
Course Outcome
Certified Agile Leader Certification (CAL) Designation from the Scrum Alliance

The Sahota CAL 2 Playbook for High Performance Organizations

Tactical/practical skills to create high performing organizations

Cultivate an organizational and cultural context where Agile may flourish

Personal growth practices for high performance

Development of leadership mindset needed to support growth

Advanced practical skills in "Agile" Organizational and Leadership approaches to decision making, change, engagement and high performance

Network and community of participants around the world
Course Pre-Requisites
Course Pre-Requisites: An active combination of two or more of CAL-E, CAL-T, or CAL-O, delivered by Michael K Sahota OR CAL1 certification by Michael K Sahota. See F.A.Q. for additional details.
Certification Requirement:
Certification will be granted to participants who:
Prepare for and participate in peer-review sessions.
Participate in monthly integration calls.
Pass peer and instructor assessment on final ½ day review meeting.
About Michael Sahota
Certified Enterprise Coach, Trainer, Consultant, Culture and Leadership Expert.
Michael teaches his proven framework for leading successful Agile Transformations in his highly accoladed Certified Agile Leadership (CAL 1 & 2) Training worldwide with over 40% of graduates with the Scrum Alliance.
Michael is the founder and CEO of SHIFT314, Inc – a boutique training and consulting organisation that specialises in the organisational culture and leadership needed to unlock success with Agile Transformations. His model for Consciously Approaching Agile guides the creation of a cultural and leadership context where Agile drives lasting organisational results.
Since 2001, Michael has been guiding success with Agile. As a thought leader, in 2012, he published the ground-breaking book "An Agile Adoption and Transformation Survival Guide: Working with Organizational Culture". In 2018, he published "Emotional Science: The Key to High Performance". Michael is working on his upcoming book on "Agile" Culture and Leadership. His vision is to create Evolutionary Leaders that create change and impact on a global scale.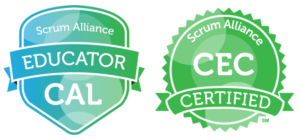 Course FAQ
How do I know I am ready for CAL2?
1. You are hitting up against your "leadership edges" and want to grow through them to show up more as the leader you want to be.
2. You have been able to apply parts of the Sahota Playbook for High Performance but want to learn how to use it better to influence others and unlock success.
3. You want to learn more practical details – the step-by-step "how to" of operating the material in the Sahota CAL1.
What if I took CAL1 from another instructor?
Each CAL is as unique as the instructor. Michael Sahota provides a unique CAL1 experience where people learn his Playbook for High Performance Organizations ™.
In CAL2, we build on unique information shared only in the Sahota CAL1. As a result all CAL2 participants must have completed Michael Sahota's CAL1.
If you have already taken a CAL1 with another instructor, we would be happy to offer you a heavily discounted seat to reflect your commitment to learning and growth or assist you with Online training registration.
Our recommendation is to take our CAL1 in person since there is material that is unique, deep and different from other CAL1 programs. It is well worth the additional time invested to get deep change in organisations.
Should I take a CAL1 refresher before taking CAL2?
If it's been awhile since you had taken your CAL1, here is some information for you to consider if you'd like to take a CAL1 refresher before moving forward and taking a CAL2.
Evolution of CAL1
The CAL1 we are teaching is evolving at a rapid rate. Every time we teach a CAL1, we take a CAL1. We look for ways to deepen understanding. There are new insights and inter-connections.
Here are some of the key reasons that we encourage graduates to join us in a "modern" CAL1:
There is new information. Get up to speed with a new baseline of understanding so you can be more successful.
Now that your consciousness has shifted you can receive more of what the course offers. Your first time through, there was a lot of letting go and releasing that limited the reception of new information. Grads who have been multiple times report a deepening and unlock each time.
Here are some key evolutions:
Introduction of the Sahota Playbook for High-Performance (Jan 2017)
Playbook refinement & clarity (Spring 2017)
Linking Sahota Culture Model to Agile Culture (Fall 2017)
Inter-weave of complexity model to culture models (Spring 2018)
Addition of Agenda (Self-Sabotage) (Spring 2018)
New Playbook Step – Relationship Health (Fall 2018)
Integration of Theory X-Y with Leadership Behaviour (Fall 2018)
Enabling "Autonomous, Self-Organizing Teams" (Spring 2019)
New Playbook Step – "Tactical Go". (Summer 2019)
How soon after CAL1 can I take CAL2?
Many people report our CAL1 as a transformational experience. It is an intense shift in perception and a powerful exploration of our own personal limitations. Our CAL2 is an even more intensive personal growth experience.
They can be taken back to back. And this is only recommended for people who are ready and seeking serious personal development.
Where possible, we suggest taking 3-6 months between CAL1 & CAL2. We offer CAL2's on an annual basis around the world.
Why do you recommend 3-6 months between taking CAL1 and taking CAL2?
Michael's CAL1 course is an intense two day experience. The CAL2 experience is an even deeper exploration into your leadership journey and very practical application of the CAL1 material. Taking time between the two CALs allows you time to implement your learning and understanding from CAL1, to help you better identify your leadership edges and apply the Sahota Playbook for High Performance to feel ready to move forward. Many people report benefit in taking time to integrate and apply the information.
Isn't it easier to take CAL1 & CAL2 at the same time since the material will be fresh?
Much like anything the experience is different for different individuals. On the one hand our CAL2 Masterclass is very beneficial to reinforce and integrate our CAL1 by going deeper into the concepts and connecting with application in a variety of perspectives. Many people describe Michael's CAL1 as "Enlightening" and "Life Changing". The CAL2 even more so. Take a moment to consider how ready you are to be deeply challenged around your beliefs about how you personally show up. If you are ready to be deeply challenged, and your desire for personal growth is a 9 or 10 out of 10, then taking these back to back will be perfect for you.
How will the new Scrum Alliance credentials impact the prerequisite course(s)?
The updated guidelines by Scrum Alliance allow for these standards for prerequisites: active combination of two or more of CAL-E, CAL-T, or CAL-O. Or CAL 1. In order to take a Sahota CAL2, you must have attended the above course(s) with Michael K Sahota.
What Scrum Alliance credentials are required to take the Sahota CAL2?
An active combination of two or more of CAL-E, CAL-T, or CAL-O, delivered by Michael K Sahota OR CAL1 certification by Michael K Sahota.
Have others taken CAL1 & CAL2 together and have gotten successful results?
Yes. Michael has had several students take the CAL1 & CAL2 in succession of one another, with tremendous results and having a fantastic experience to continue to learn and grow from.
Why is there no CAL2 Credential?
The Scrum Alliance has a two part programme.
Part 1 of the programme (CAL1) now gives the new CAL-E, CAL-O Credentials.
Part 2 of the programme (CAL2) gives the Certified Agile Leader Certification.
For more information, please see Scrum Aliance's CAL Programme Page.
What if I cannot participate in the Peer Review sessions?
To get certified you must fully participate in the peer review sessions. This is a time where you will learn from your peers, share experiences and network. Certification of CAL2 through the Scrum Alliance will depend on full participation, and positive peer review. Please allow for a 4 month process for the complete CAL2.
You are welcome to attend the training to get the knowledge without going through the peer certification process. Course fee is the same.
What comes after CAL2?
We all understand that leadership is a lifelong commitment, where growth happens over time and experience. Michael Sahota and his company SHIFT314 are excited to offer the next step in your leadership path - The Academy of Leadership Mastery (aka JEDI School). We can liaise with Michael to provide more details on this option if of interest.